Transportation is the biggest source of greenhouse gas emissions in the United States. While that includes the emissions from planes, trains, and ships, the vehicles we drive around every day are also part of the problem: The average passenger vehicle emits 4.6 metric tons of carbon dioxide per year.
This week, Google announced it plans on helping reduce those emissions by incorporating eco-friendly route options into Google Maps. "With insights from the U.S. Department of Energy's National Renewable Energy Lab, we're building a new routing model that optimizes for lower fuel consumption based on factors like road incline and traffic congestion," says Dane Glasgow, VP of product for Google Maps, in a press release.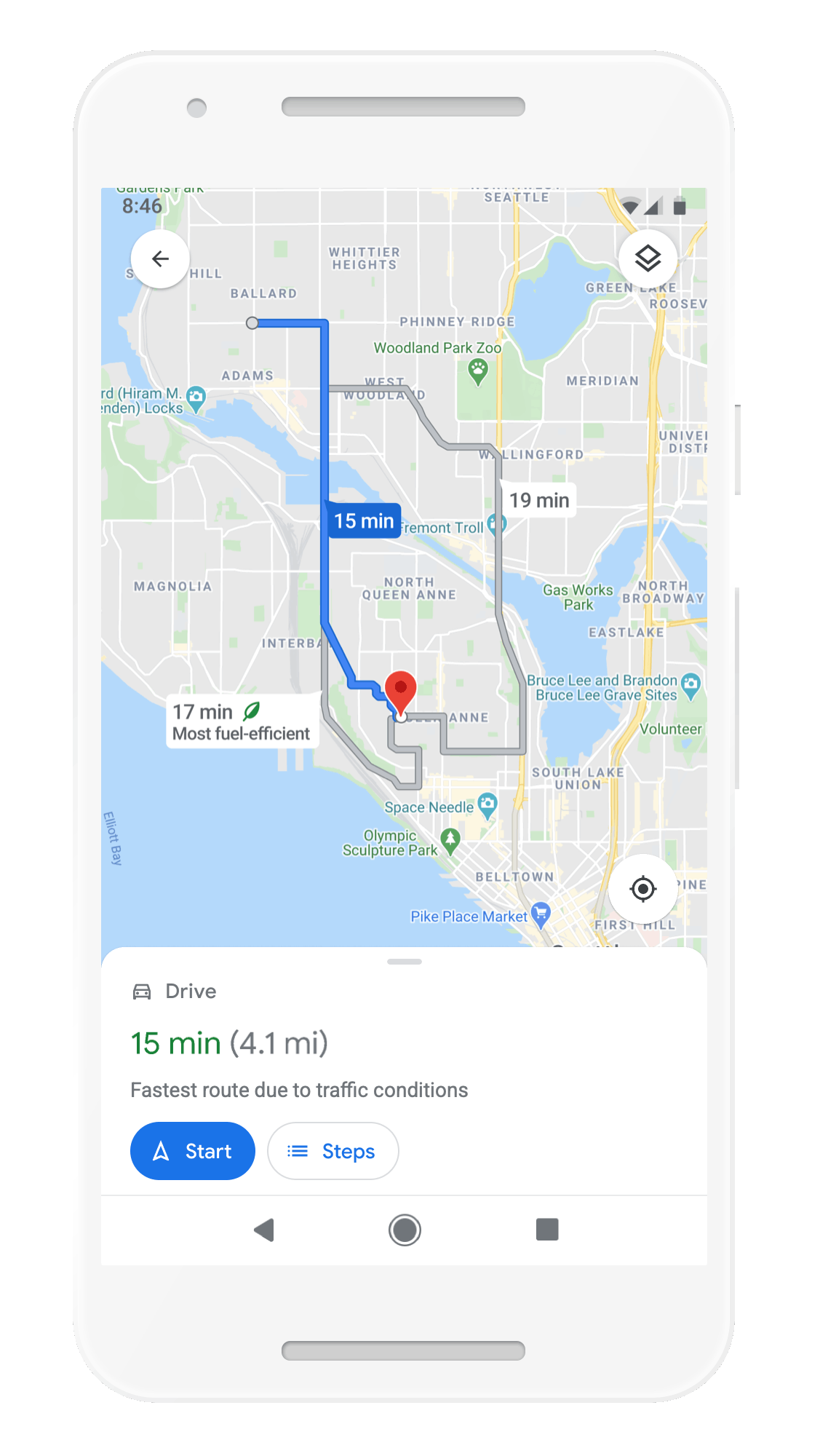 When you enter your destination into Google Maps, this feature will default to the route with the lower carbon footprint anytime the ETA is similar to the fastest route. "In cases where the eco-friendly route could significantly increase your ETA, we'll let you compare the relative CO2 impact between routes so you can choose," Glasgow says. "Always want the fastest route? That's okay, too. Simply adjust your preferences in Settings."
This information follows Google's commitment to becoming carbon-free by 2030. Google is already carbon neutral and has been making big moves toward renewable energy. In 2017, it declared 100 percent of its yearly electricity consumption was being offset with renewable energy. Additionally, in 2019, the corporate giant made another large renewable energy investment.   
When Are These New Features Being Released?
The new eco-friendly map features will go live later this year in the U.S., with plans for global expansion after. The goal is simple: making living more sustainably an effortless option for everyone. "What we're seeing is for around half of routes, we're able to find an option more eco-friendly with minimal or no time-cost tradeoff," Russell Dicker, Google product director, told CNBC.
This emphasizes the ease with which people can make the switch to a sustainable route. It also encourages conscious consumer behavior. In doing all this, the company also hopes to make public transportation options more accessible on the app. This means giving users the ability to easily compare the environmental impact of driving, biking, walking, carpooling, and taking public transit by putting them all on one screen.
All in all, Google is proving itself to be a leading tech company in the fight against climate change. It's taking action and setting the example for other companies. What's more of a win-win than that?
---
Hey there! Want to help us change the world every day through easy, achievable, eco-friendly tips and tricks? Sign up for the Brightly Spot and join our movement of over a million changemakers.