Google knows people are searching all day, every day. Because of that, it's using its platform to better the planet with a newly-launched feature that allows travelers to find more sustainable hotels.
Before, searching for hotels on Google primarily left you with the price and amenities. Now, its "eco-certified" feature allows you to quickly find hotels that are putting in the work to be more sustainable. Any hotel that makes the cut has an eye-catching green "eco-certified" badge next to its name in the search.
"Hotels that are certified for meeting high standards of sustainability from certain independent organizations, like Green Key or EarthCheck, will have an eco-certified badge next to their name," said Richard Holden, Google's vice president of travel products, in a press release. "We're working with hotels around the world, including independent hotels and chains such as Hilton and Accor, to gather this information and make it easily accessible."
According to Holden, these updates are part of Google's commitment over the next decade to "invest in technologies that help our partners and people around the world make more sustainable choices." Google itself is making moves, too: It first achieved carbon neutrality back in 2007 and has committed to operating on 24/7 carbon-free energy by 2030.
How to Use Google's Eco-Certified Hotel Feature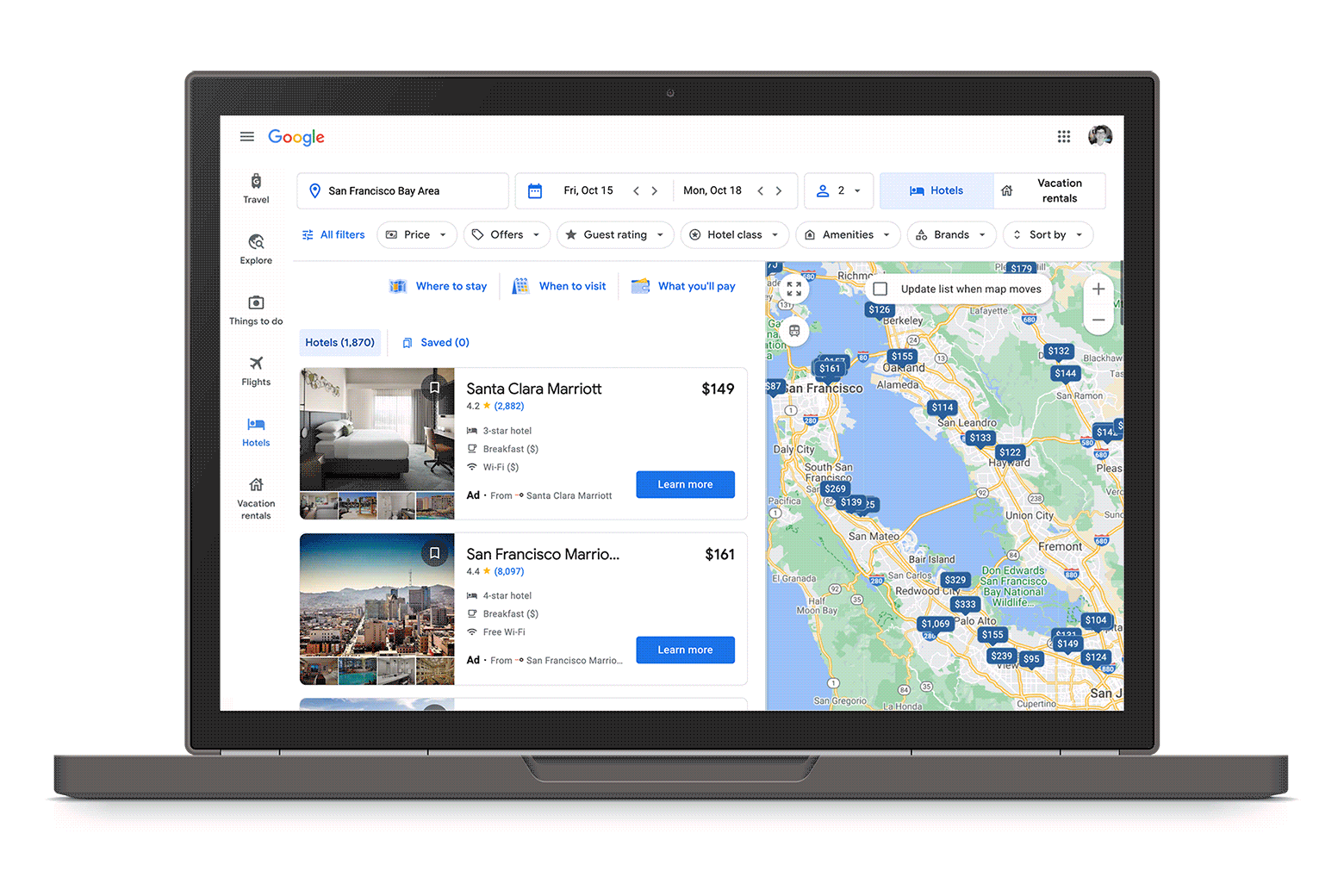 Using Google's new eco-certified hotel feature is easy. First, enter your desired location on Google Hotels. Then, as you scroll through the options, look for a green "eco-certified" badge by the hotel name.
Click on the badge, which takes you to the hotel's "About" tab. Here, you'll be able to see a breakdown of the hotel's sustainability practices, including eco certifications, energy efficiency, water conservation, sustainable sourcing, and waste reduction. That could include things like a towel and linen reuse program, vegetarian meals, a ban of single-use plastic straws and Styrofoam food containers, and more. Every hotel will be different.
Instead of having to dig around on a hotel's website to find information on how sustainable it is, you'll be able to book a planet-friendly option in minutes—no detective work required. Planning a planet-friendly trip has never been easier.
---
Hey there! Want to help us change the world every day through easy, achievable, eco-friendly tips and tricks? Sign up for the Brightly Spot and join our movement of over a million changemakers.